Hawai'i has no native amphibians. Today, there are six, all who arrived with the help of humans. Only the coqui frog (Eleutherodactyls coqui) is targeted for removal in Maui County. (Learn more about MISC's Coqui Frog Control Program here)
Here are some tips to help you distinguish between coqui and the related greenhouse frog as well as identify some of the other commonly found non-native amphibians.
Appearance: Coqui Frog vs. Greenhouse Frog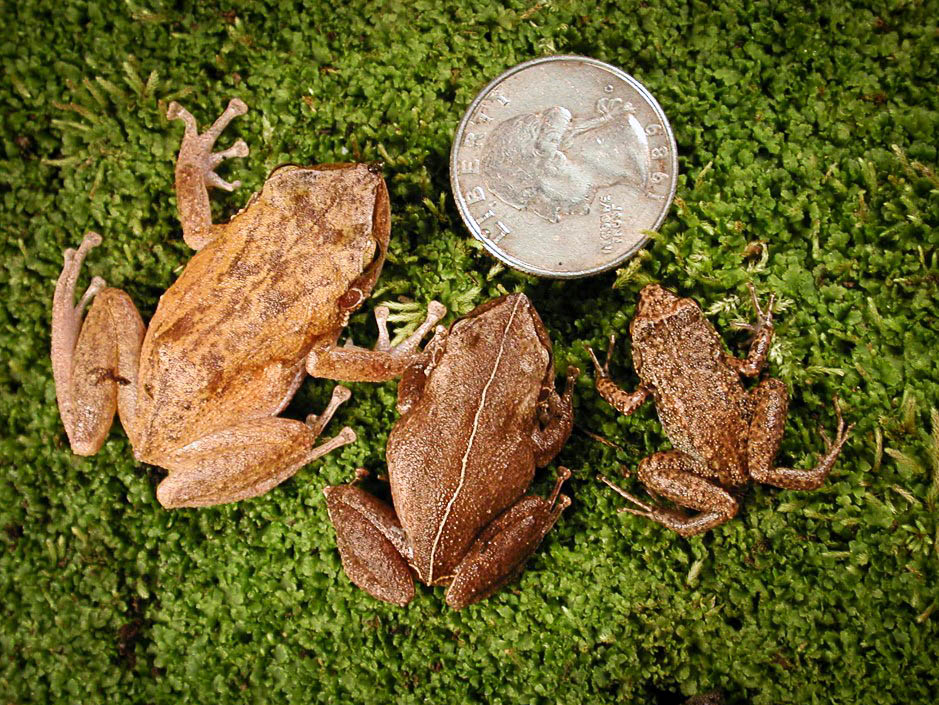 Call:
Coqui frogs generally vocalize between sunset and sunrise. Occasionally coqui will call during cool rainy days. They have a very loud two-note call that sounds like "ko-kee, ko-kee"
Coqui can be difficult to find, though their calls are very loud. They will move when directly disturbed but generally will hide when threatened. You can use the recordings below to encourage a coqui to vocalize in a call and response:
Recording of a single coqui frog
Recording of multiple coqui frogs
Recording of greenhouse frog
Behavior:
Coqui are found on the ground and the males climb up to call and attract a mate. Coqui are rarely seen.
Greenhouse frogs stay on the ground. Greenhouse frogs tend to go inside water boxes and homes. People tend to see these frogs more often when disturbed, as they quickly hop around in landscaping and well irrigated areas.
Both species are nocturnal.
Distribution and impact:
Coqui: Report Coqui frogs to MISC

Loud call (as loud as a lawn mower) disrupts
Reach high densities (over 22,000 frogs/acre – nearly three times the population density of their native Puerto Rico) and are capable of establishing in diverse habitats from sea-level to 4,000 feet.
are not widespread on Maui and are targeted for containment and removal
Support other invasive plants and animals

Greenhouse:

Reach a lower density than coqui and is limited to low elevations
Call is much quieter
What You Can Do:
We need your help! If you can catch or control coqui on your own property, you help our crew focus on control in difficult to access gulches and ravines
If you have coqui, here are a few things you can do:
Other Frogs on Maui:
These are some of the other amphibians that you may find on Maui. While they may be pests, they are not a MISC target species. Please only report coqui frogs to MISC here.